Home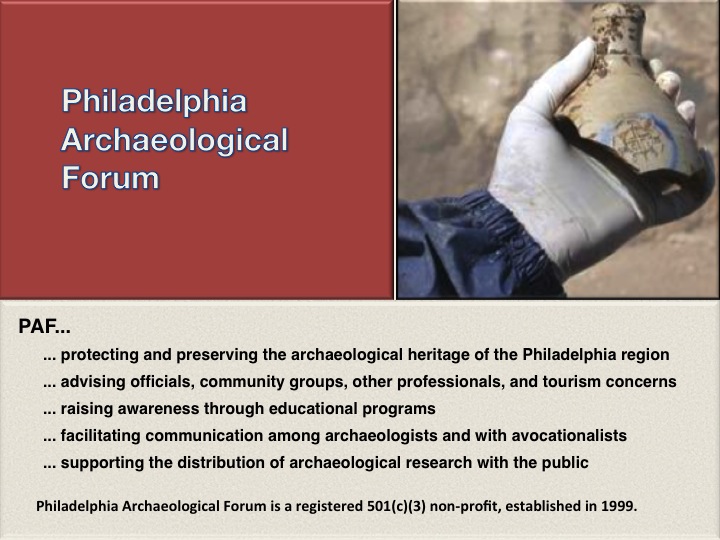 Learn about PAF here…

__________________________________________________________________________
ARTIFACT OF THE MONTH
FEBRUARY – 2015
Learn more about this artifact
here…
Artifact of the Month
Index
__________________________________________________________________________
UPCOMING TALK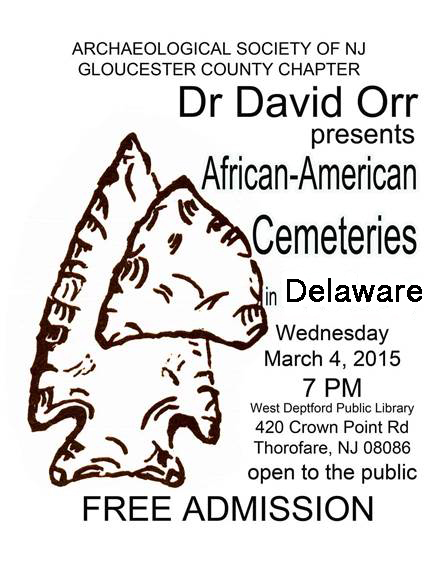 Print flier
African American Cemeteries of Delaware
__________________________________________________________________________
In Memoriam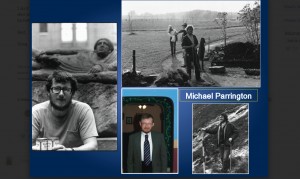 The Philadelphia Archaeological Forum is sad to hear that one of our finest colleagues, and a dear friend to many, Michael Parrington, has died. Mike Parrington passed away October 18th, very peacefully, at home, with family gathered all around him. He will be missed by many. Our thoughts are with his family and friends.
Michael Parrington (1944–2014)
Michael Parrington passed away peacefully at home in Burlington City on Saturday, October 18, 2014, surrounded by his loving family. He was 70 and will be missed and remembered fondly by so many.

Born in Lancashire, England, he moved to the Philadelphia area in 1976 and was a prominent archaeologist in the Philadelphia community, coauthoring the book The Buried Past: An Archaeological History of Philadelphia in 1992. He was a fan of the Phillies and the Beatles, a lover of folk music and walking, a founder and supporter of many local archaeological societies, and an ardent reader and book collector.

He was the loving husband of Helen (Linny) Schenck, doting father to Megan, Alice, and Ellen, and adoring grandfather to Emma, Simon, and Ruby. He is also survived by his siblings, Alan, Graham, Lindsay, and Susan, and many nieces and nephews.

His memorial service will be held on Sunday, October 26th at 3:30 p.m. at the Burlington Friends Meeting House, 340 High Street, Burlington, NJ.

In lieu of flowers folks can donate in Mike's memory to one of the archaeological societies that were closest to his heart: Philadelphia Archaeological Forum c/o Steve Tull, Treasurer, 437 High St., Burlington, NJ 08016; Archaeological Society of New Jersey c/o Michael Gall, Treasurer, 119 S. Main St., Medford, New Jersey 08055 (or online through the website, www.asnj.org); or Oliver Evans Chapter of the Society for Industrial Archeology c/o Larry DeYoung, Treasurer, 54 N. Waterloo Rd., Devon, PA 19333.
In 2013, Michael Parrington was awarded the Philadelphia Archaeological Forum's Award of Merit. The award letter presented to Mike at that time recounts his many contributions to Philadelphia archaeology.
_________________________________________________________________

by admin