Home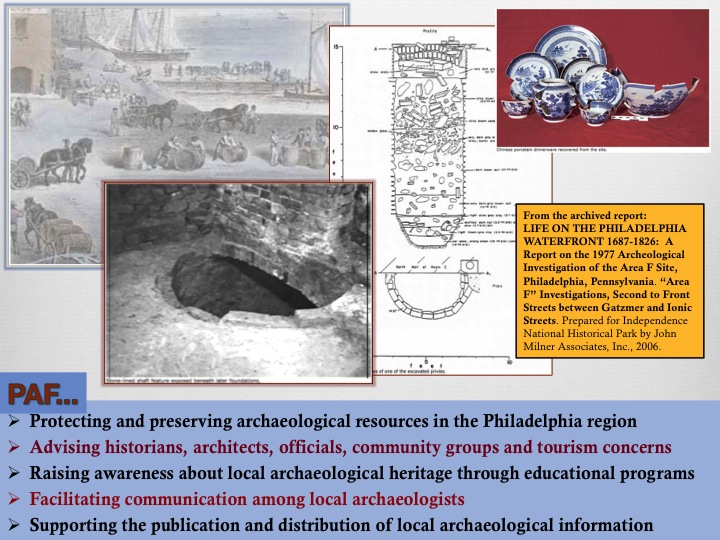 Learn about PAF here…
Learn about the 'Area F' archaeological project here…

_________________________________________________________________________
What do local archaeologists do? What do locals do with archaeology?
Some insight is provided by the International Day of Archaeology blogging project:


What is it?
The Philadelphia Day of Archaeology is the local version of an international project that is designed to provide a window into the lives of archaeologists and to those whose work engages with archaeology. The International Day of Archaeology is a blogging project that began in 2011. The Philadelphia version gathers and collates local project submissions and posts them both at the webpages of the Philadelphia Archaeological Forum and at the international project's blog posting site.
READ the 2015 submissions here…
(and read the submissions for 2014, 2013, and 2012 here!)

_________________________________________________________________
JULY 2015-ARTIFACT OF THE MONTH

Clews "States Border" ("America and Independence") Plate, ca. 1826-1834


LEARN MORE ABOUT THIS 'ARTIFACT OF THE MONTH'here…
See past 'Artifacts of the Month' items here…
____________________________________________________________
UPCOMING EVENTS…
Public Archaeology Day, Shofuso House and Garden in Fairmount Park
Sat. Aug. 1st , 11 a.m.- 5 p.m.
Free and open to the public! Archaeologists from AECOM Burlington explain their excavation of the first Japanese garden in North America just behind Shofuso's waterfall. Shofuso seeks to find its grandfather: the remains of Japan's exhibition structure from the 1876 Centennial Exposition buried beneath West Fairmount Park. Never before and never again will the opportunity to explore this mystery be available to history and garden buffs. From the end of July through mid-August, Shofuso, with AECOM Burlington archaeologists, will be undertaking the investigation of this first Japanese garden through an archaeological survey. Visitors will be able to view the archaeologists at work and ask questions about the project.
For Information and directions go to www.japanesehouse.org or call (215) 878-5097
Public Archaeology Program at Newlin Grist Mill
call 610.459.2359 or email info@newlingristmill.org.
2015 Dates: (Saturdays) September 19 October 17
Time: 10 am – 3 pm
Cost: Free
Location: Meet in front of the Mill
Learn more here…
__________________________________________________________________
FEATURED BLOG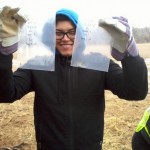 Whispering Woods – the blog (Spring-Summer 2015) for a Phase II archaeological excavation located in Salem Co, NJ, being conducted by Rutgers–Camden undergraduate students in collaboration with archaeologists from the Fredric Rieders Family Renaissance Foundation.
____________________________________________________________________
FEATURED NEW BOOK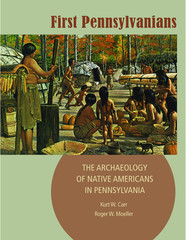 First Pennsylvanians: The Archaeology of Native Americans in Pennsylvania
By Kurt W. Carr, PhD, Senior Curator of Archaeology at The State Museum of Pennsylvania, and Roger W. Moeller, PhD
In First Pennsylvanians, Kurt Carr and Roger Moeller provide a broad, accessible, and wide-ranging overview of the archaeological record of Native Americans in Pennsylvania from early prehistory through the Paleoindian, Archaic, Transitional, Woodland, and Contact periods, stretching from 16,500 years ago to 1750 c.e. The authors present and analyze specific traits of each archaeological time period covered and use the archaeological record to provide a glimpse of Native Americans' daily life in Pennsylvania. First Pennsylvanians also includes personal stories and anecdotes from archaeologists about their experiences in the field as well as a wealth of illustrations and diagrams. The chapters examine the environment, social groups, tools, subsistence, and settlements of patterns of Native Americans in Pennsylvania and describe how these factors profoundly affected the populations and cultures of these early inhabitants of the region.

256 pages, paperback; 124 color photos and illustrations. This Commonwealth of Pennsylvania publication can be purchased here…
________________________________________________________________
"EXPLORE PHILLY'S BURIED PAST"!!!! SAVE THE DATE — SATURDAY, OCTOBER 10TH!!!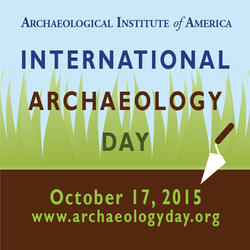 ________

by admin